«The removal of the southieutes» in Senegal : an unknown type of FGM IV
INTERVIEW WITH FATOU KEBE, SOCIOLOGIST, SENEGAL

We had the opportunity to meet Fatou Kebe, member of the Community of Practice since 2017, when she came in Brussels for an international expert meeting on management and prevention of female genital mutilation/cutting, organized by three francophone universities.

September 2019
The discovery of the reality of a "cultural practice"
It was during the visit of her cousin in Senegal, in 2016, that Fatou discovered the reality of a cultural practice. In Senegal, it's a tradition that members of the diaspora return to Senegal in order to « consummate their marriage », that is have a first sexual intercourse. It's a way of « wash their skin in front of family members » by proving woman's virginity.
Her paternal cousin, Animata (pseudonyme) arrives in Senegal but the first sexual intercourse with her husband isn't possible because of difficulties with penetration. According to her aunts, Animata would have « sothieuntes » (the name used in Senegal for warts) that it would be necessary to cut in order to « facilitate penetration ». Fatou was astonished – especially as her cousin can't have a sexually transmitted infection since she never had sex before her marriage – and therefore proposes to examine her cousin to detect the presence of possible warts, but finds no sign of it.
« She was just like me ».
Fatou argues that these « sothieuntes » do not exist and opposes the cutting of the genital organs of Animata. With her cousin and her husband, they instead make an appointment with a gynecologist. But the parents and aunts strongly oppose it and give Fatou an ultimatum: either she respects the decision of the family, or she leaves their house.
The next day, her cousin is cut. It was very painful, her screams could be heard 300 meters away. Animata is then forced to « consummate her marriage » because the other women say that « when you are cut, you must have sex with your husband because if you don't, the sothieutes will come back ». Two days later, Fatou examines her cousin again and finds an incision of the vaginal mucosa.
Fatou recalls: "This situation opened my eyes to the practice and completely changed my idea of it. Of course, I already knew the practice – my mother, my aunts and many of my friends have undergone it – but before this happened I thought that there were really « sothieutes » (warts) and I also shared the idea of ​​my community that it was an honorable practice for a woman to prove her virginity.
It's my cousin's situation that made me realize that we don't remove warts – because there are none – but that we make an incision at the opening of the vagina. I understood that this is in fact an intervention without medical justification, a kind of mutilation.
In Senegal it's often said that the Wolof community doesn't practice FGM. But that's an excision, it's a form of mutilation! It's not a type I or II because the glans of the clitoris or the lips aren't cut, but it's a form of genital mutilation."
This practice is mainly realized in December-January, because it's the period during which the members of the diaspora return to Senegal, and the newlyweds consume their marriage; but also during the festival of Tabaski (in August) because there are a lot of marriage celebrations during this period.
Understanding the reasons for this practice
In order to understand this practice, Fatou decides to conduct a sociological research. Having failed to find funding, she mainly finances the research with their own funds, but she also gets logistical support by a local NGO, enabling her to be assisted by students for data collection.
25 interviews have been conducted between October and December 2018 with  "practitioners" (in everyday language, they are called "cutters of sothieutes"), women who have undergone  "the removal of the sothieuntes" and health-care providers (gynecologists and midwives), including 15 direct and 10 informal interviews.
Fatou had to revise the methodology at the beginning of the research as she faced refusal by some "practitioners" to participate in interviews. To address this problem, she used the method of "mystery client": she hid her true identity as a researcher and approached the "practitioners" by presenting itself as a resident of the neighborhood. A video containing testimonies of midwives, two women who have undergone the practice and a practitioner has also been produced in partnership with the Commmunity of Practice on FGM.
What are the perceptions of health professionals, women who have undergone the practice, and "practitioners"?
The "practicioners":
Interviews with practitioners reveal that they justify their practices in many ways. According to them, the « sothieuntes » exist. These are warts that need to be cut, as otherwise the person concerned would have painful sexual intercourse all the time, and she would run the risk of not having children.
Women who have undergone the practice:
Women over the age of 30 were interviewed, as well as youth 18 to 24. The results of the interviews reveal two distinct groups:
1. Some say that if they have to do it again, she will do it again, especially for a question of honor related to virginity. In Senegal, there are many practices to justify virginity, and « the removal of sothieuntes » is part of it :
« When we cut a girl there is no doubt, we know that the girl is a virgin. On the other hand, if nothing is cut, and that she goes to the hotel with her husband (to consume her wedding elsewhere than in the family home), there will be doubts on her virginity. To prevent people from doubting their virginity, girls prefer be cut ».
Note that they don't speak about the presence of warts or other genital problems that would justify a medical intervention.
2. The second group is against the practice, especially because of its consequences. Some experience pain during intercourse, others suffer from lack of desire, don't feel pleasure, and aren't bloomed. They refused that their daughters are subjected to the practice.
Health providers:
Only one gynecologist says that "sothieutes" are condyloma, that is to say genital warts. Fatou explains the perception of this gynecologist by the fact that in the Wolof community, all the warts are called "sothieutes". So what the "practitioners" would remove would be genital warts. Except that most women who have undergone the practice have never had sex, it's therefore unlikely that they have a sexually transmitted infection and bearers of condyloma.
The majority of health providers say that "sothieuntes" don't exist. They agree that the practice of  "removal of sothieuntes" is actually an incision of the vaginal mucosa made to women to facilitate penetration. There is no relation between this practice and the presence of genital warts.

Furthermore, for these health-care workers, the problem preventing genital penetration is probably be due to a vaginismus, that is to say a muscle contraction, itself due to the stress felt by the women during the first sexual intercourse.
A study that needs to be further developed
Due to lack of resources, research was only carried out in two regions of Senegal: Dakar and Louga.
Nevertheless, the practice could also be widespread in other regions, and in other ethnic groups. For example, Fatou is aware of the practice in her region of origin, the Saint-Louis region, and according to a "practitioner" interviewed, the practice is also be widespread in the Diourbel region. These are fairly close geographically, located in West Senegal (see Appendix 1). All these regions are mainly composed of Wolof communities (see Appendix 2).
This research should therefore be further developed with a wider geographical area and a more representative sample of the population concerned:
« There are a lot of things that we still have to explore, share and raise awareness, because people who do it think it's a cultural practice and that everybody has to do it when in fact it's not good. There are consequences, but women don't always know that it's related to the practice. They just think that since she is cut, everyone is happy and you are honored in front of the family".
Fatou would like a practitioner to show her what she is cutting in order to better understand the practice. A short film in progress should allow her to highlight the case of his cousin Animata.
Finally, thanks to the results of her research, Fatou would like to build an argument and advocate with the Senegalese government for the integration of this practice in the fight against FGM in Senegal.
Currently, the practice of FGM is prohibited in Senegal (1999 law), and there are 25.7% of women circumcised in 2015. However, as "the removal of sothieutes" is currently not recognised, the prevalence of FGM in Senegal could significantly increase if this practice would to be seen as a type of FGM.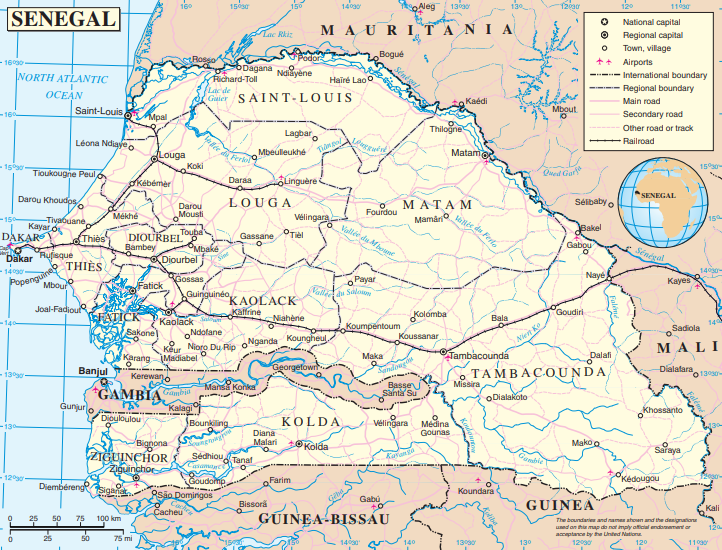 "The Community of Practice on Female Genital Mutilation" is part of the "Building Bridges between Africa and Europe to tackle FGM" project, supported by the "UNFPA-UNICEF Joint Programme on the Elimination of FGM".
The project is coordinated by AIDOS in partnership with GAMS Belgium.
The views expressed on this website are those of the authors and do not necessarily reflect the official policy or position of the UNFPA, UNICEF or any other agency or organization.
© Copyright : GAMS Belgium